All Flag Poles Require a Freight Quote 
Please call for details
Perfect for commercial, institutional or residential use. Our fiberglass flagpoles will not pit, corrode, or rust. This is extremely important near salt water or in rugged weather conditions. Unlike wood that can rot, or aluminum that discolors and pits, our flagpoles have an ultra-hard, gel-coat finish that is impervious to all weather conditions.  Fiberglass poles also eliminate the clinging sound that comes from external, halyard snaps. All poles include:
*Ground sleeve
*Gold anodized finial
*Cleat
*Halyard
*2 flag clips
*Revolving truck
*Flash Collar
*All flagpoles are shipped with a pre-installed rotating truck with dual pullies and a halyard.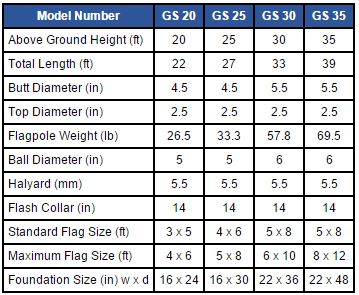 SAFETY
Fiberglass will NOT conduct electricity like ALUMINUM. No ground wires. NO LIGHTNING WORRY. Easy Installation!
COLORS
Our standard flagpole has a brilliant white, pre-cast gel-coat finish. Other colors are available on special request. All poles have the same dura-hard, fade-free, weather resistant finish.
REVOLVING TRUCK
All poles come with a special designed, high quality, revolving-truck as standard equipment.